2013 September Melbourne VMUG
The September Melbourne VMUG was on this week, and it was a ripper.
The agenda was set for:
EMC Presentation: Continuous Availability with VPLEX – Berin Smithson
VMware Presentation: What's New in vSphere 5.5 – Greg Mulholland
Building a Service Provider Cloud Offering – Arron Stebbing
Coming off VMworld only 3 weeks before, we knew there was a lot of great info to pass on to the crowd, and there was a higher than average number of registrations. The room was packed.
It was great to see a lot of first timers, and some familiar faces that only signed up to the VMUG at the Melbourne
VMware Series 2013
back in July.
The big news for the VMUG is that we have found a new venue to hold our quarterly meetings. The next meeting on Thursday 21st November will be at the Telstra Conference Centre, 242 Exhibition St, Melbourne. The main entrance is on the corner of Lonsdale St & Exhibition St. Follow the signs for "Conference Centre".
View
Melbourne VMUG at Telstra 242 Conference Centre
in a larger map
We are really excited about the possibilities this venue opens for the Melbourne VMUG. It has a much larger capacity, and the room can be divided to run 2 concurrent presentations. Hopefully having more content, it will appeal to wider range of people, and for any community presenters, it won't feel as daunting, as they will have a more intimate audience.
In having more content, we need more community presenters for next year. So if you've implemented a solution, or overcome a problem, we'd like to hear about it. You may not think it's worthy, but other users are probably going through the same pain you were, so lets help them out, and you have a chance of winning a VMware training course of your choice.
Recently in the community, Scott Lowe, Cody Bunch and several others have written articles on "Putting the User back into User Group" and offered to help first time presenters in getting over their stage fright and mentor them with their presentations. This is a great idea, so if you would like to talk at the Melbourne VMUG, let us know, and we can help you. I dread getting up in front of a crowd, but i'm going to make it my goal for the next 12 months. C'mon, you can do it too.
I briefly spoke about the social side of VMworld, and how there are great opportunities to network with other people while you're there. There's plenty of content that comes out through blogs and the recorded sessions, but meeting the people there is a great experience. It's amazing to be able to talk to VMware engineers, and find out reasons why they did certain things in a product, or bond with other VMware users trying to solve similar issues as yourself.
Alastair Cooke invited everyone going to vForum in Sydney next month, to come along to VMDownUnderground. This is a great chance to socialise with the APAC VMware community.
We gave away HEAPS of TrainSignal / PluralSight 30 day training vouchers, and at vBeers we gave away VMware Press books, Tshirts, and a Galaxy Tab 3.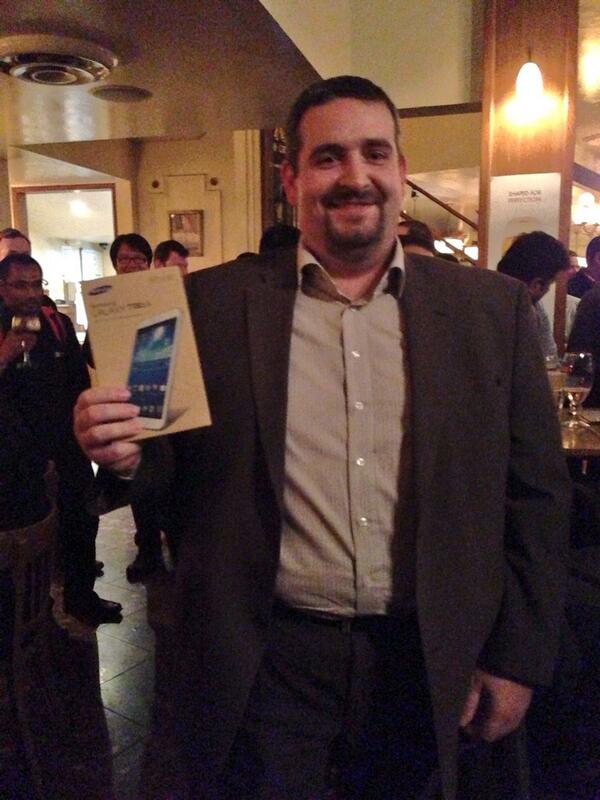 Aaron, the winner of a Galaxy Tab 3
The content from the presentations is available on the Melbourne  VMUG workspace.
The next Melbourne VMUG is on Thursday 21st November. See you there. Don't forget to follow @mvmug on twitter for more news.