Melbourne VMUG May 2014 Wrap up

Last week we had the quarterly VMUG meeting at the Telstra Conference Centre.
We paid homage to the creator of the VMware community, John Troyer, as he's moved on from VMware after 9 years. John was responsible for the vExpert program, in which 16 were from Melbourne this year.
If you want to participate in the VMUG community and perhaps become a vExpert, contact us about doing a community presentation. If you're nervous or unsure, look into the @Feed4ward program. We're here to help you succeed.
Community
The Salvation Army did a community presentation on the difficulties they face with "Operations on a Limited Budget", and how they get around those constraints. It was a fascinating presentation, almost a rags to riches storey as they started with VMware server running on laptops, and then moved to servers running vSphere.
Storage Panel Session. The year of the Desktop Storage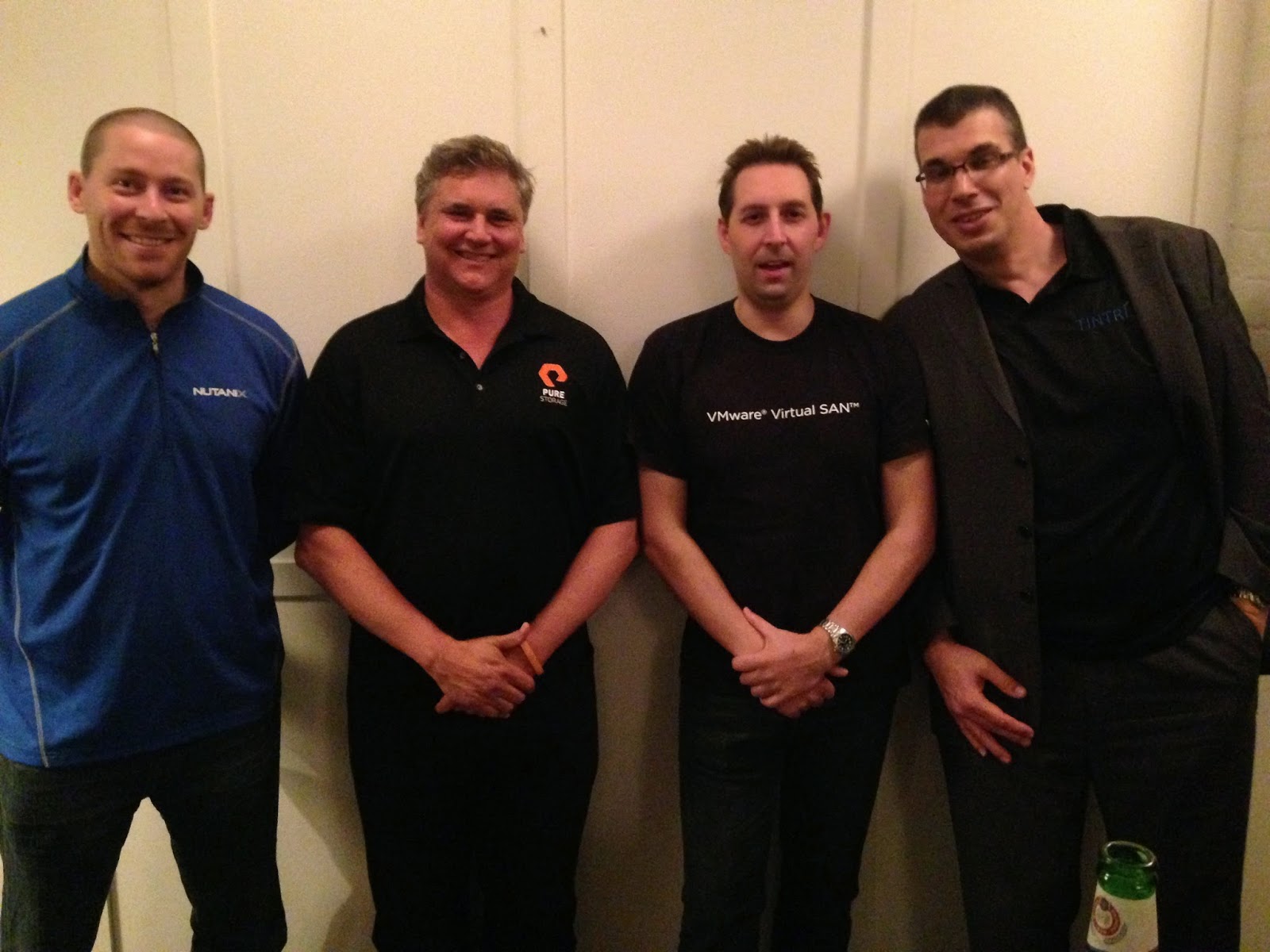 Not a police line-up.
With the fierce competition amongst the storage vendors, we were lucky enough to get four storage vendors that worked together, presenting the 'new world architecture', with flash, and server side storage. I was a bit worried as to whether the four vendors would actually work together, or take shots at each other with snide remarks ending up in a punch on. I sensed some nerves in the storage vendors too. There was an increased presence of other vendors in the audience, keen to see the outcome, and probably to defend their own company if they were named during the presentation.
Each vendor did a brief 10 minute intro showing their offering for the uninitiated, and then they lined up to answer questions from the audience. There were some great questions, one even getting a vendor to admit a particular use case wouldn't suit their platform, and suggested the vendor to his right would be able to handle that use case. It was a great honest panel session. No Marketing. Just the facts.
Is it a risk running your enterprise workloads on something from a startup? Perhaps. But the trade off can be a cheaper solution that suits your requirements and the vendor will work harder to prove their technology was the right choice as they can't afford to disappoint customers.
Thanks to Nutanix, Pure Storage, VMware and Tintri for working together on the panel session.
Prizes
There was a raffle for heaps of prizes such as movie tickets, Apple TV, bluetooth speakers, VMware Press books and more. If you don't have business cards, make some yourself, or bring a bunch of post-it notes.
vBeers
All that talking was thirsty work, and we headed to Trunk Bar & Restaurant across the road from the Telstra conference centre.With the alcohol flowing, there were no punch ons with the storage vendors, just love.
Presentations now available online
The slides from the night are available on the Melbourne VMUG workspace:  http://www.vmug.com/p/do/sd/sid=2470&type=0
The sessions were recorded, thanks to Justin Warren ( http://www.eigenmagic.com).
Keep an eye out for the next vBeers event on the 26th June. Check the vmug.com/melbourne website for the latest info.