My VCAP-NV Design Exam Experience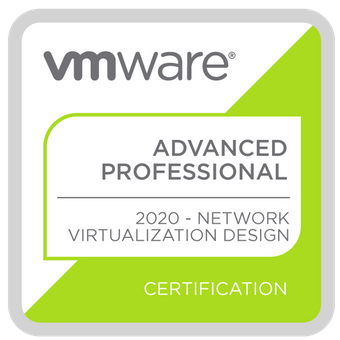 Last month VMware released updated versions of some exams, including the VCAP-NV Design exam based on NSX-T 3.0. In the past year or so I've been working a lot more with NSX-T, but.. I'm not a real* networking guy, so I wasn't confident in taking NV exams.
After passing the VCP-NV on NSX-T 2.4 earlier in the year, I put off the VCAPs because they were based on NSX-T 2.4 or NSX-v 6.x, but with the updated exam out, I was running out of excuses.
You might have heard there's a pandemic going on, so doing exams remotely is the only option here, and suited me.
I booked the exam, and it was great to see so many timeslots, but they were from 5:45PM to 7:45AM. Not ideal. Wanting a few extra days, I rescheduled the exam the following week, and then again to align with work commitments, and lucky enough I had timeslots available up to 11:45AM.
The day before the exam, I ran through the system check to get an idea of what happens. It downloads and runs an app that tells you to close all other apps, and it checks you microphone and camera.
On the day of the exam, I decided to do the exam in the bedroom, as it was easier to have a clear space and away from kids on school holidays. You can login to the exam 30 minutes before your timeslot, to 15 minutes after. I rebooted the laptop, and started the pre-checks where it can SMS a web link for you to upload 4 photos of your workspace, and ID. This took around 15 minutes. The 4 photos of my exam area, didn't cover the entire room, so I expected more photos would be required.
Clicking agree to the exam policies, I was surprised to find myself already in the exam and clock ticking. I expected a chat window to pop up before the exam started to verify more things, so I went into the online chat to ensure this was expected. The remote proctor came in over my speakers to confirm all was OK, and off I continued with the exam.
It's 57 multiple choice questions. Some of the questions are very wordy, and you need to pay attention to key words. For example, the choice of answers may show a design option you think makes sense in most scenarios, but specific key words in the question may go against that.
When I started, the timer showed I had over 2 hours (even though the blueprint says "Actual exam time is 100 minutes"). In the end I had more than 30 minutes remaining, even after reviewing my answers, and I'm usually pretty slow with exams.
I was really surprised to see that I passed the exam. Woohoo! It gave me an option to print the result, and within 2 days Acclaim had issued the badge.
While doing the exam, you can see the view from your webcam, and it shows you are being recorded. I was self-conscious in my movements, and quickly moved if I realised my hand was covering my mouth, or if I was staring out the window, thinking the remote proctor would think I'm cheating by talking to someone. Working from home by myself, I have a tendency to talk out loud to myself when working through a problem. I had to remember to use my inside voice.
The exam covers design methodology of:
Availability
Manageability
Performance
Recoverability
Security
And:
Requirements
Constraints
Assumptions
Risks
As well as conceptual, logical, physical designs, functional / non-functional requirements, plus all the technical bits of NSX-T 3.0.
I'm terrible at studying for exams. I jump around reading bits from lots of different sources, as well as putting that knowledge into practice in the lab. I'd recommend the NSX-T Design guide. Even though it's based on 2.5, it's the best we have until there's a 3.0 version. I found last years VMworld videos on NSX provided good explanations. Also cover off the specific 3.0 features.
Hopefully the VCAP-NV Deploy NSX-T 3.0 will be out soon, so that will be next on my list.
* When I say I'm not a real networking guy, I mean I haven't spent many years with hands-on physical networking gear. It's mainly been from ToR switches & trunked VLANs to ESXi hosts, and that's it. BGP, VRF's etc are all new to me.